One Million Places – About us & Contact
Going on a journey, discovering the world, experiencing new things. We are Sandra, Michael & our little daughter Lina from Darmstadt – commuters between full-time jobs and 30 days of vacation per year. There is a lot of wanderlust in between. And that's why we keep pulling out into the wide or near world. Since 2012 we have already travelled through 78 countries on our smaller and larger holidays and had the crazy idea at the beginning of 2014 to just take a break from our jobs and go on a world tour for 6 months. Since then, we have been blogging with great passion about the countless adventures and stories we experience on our travels. Be it from dreamlike islands, cities of millions, mountain peaks, pure wilderness, cruises or diving in the depths of the oceans. Travelling is our great passion and we love to get to know and write about new countries, places and cultures.
---

---
About One Million Places
Our travel blog One Million Places was created as a diary and memory during our world tour. After a lot of positive comments and news about our 670 travel reports and 27.000 pictures have reached us, the blogging has not let us go. Since then, we have been reporting in great detail and authentically about our travels and experiences. We want to give other travelers helpful tips for destinations, flights, hotels, tours and attractions, as well as to inspire new destinations. Our world is so incredibly beautiful and versatile and we want to explore & experience as much of it together as possible. We also report on our travels on Instagram, Facebook, Pinterest and YouTube.
We have worked with…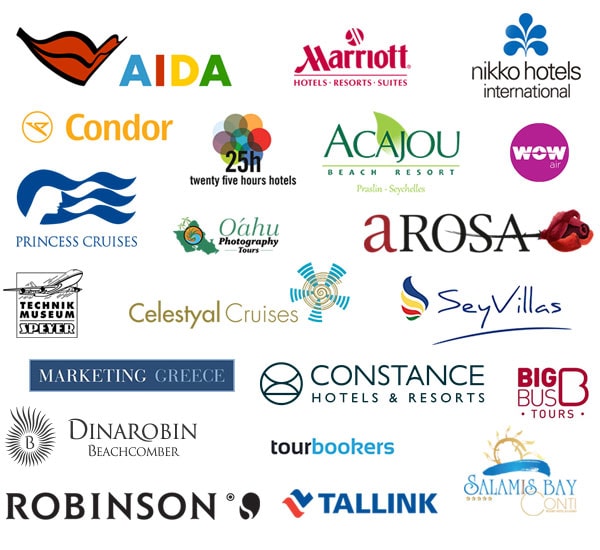 The following map shows an overview of the countries we have visited so far.
---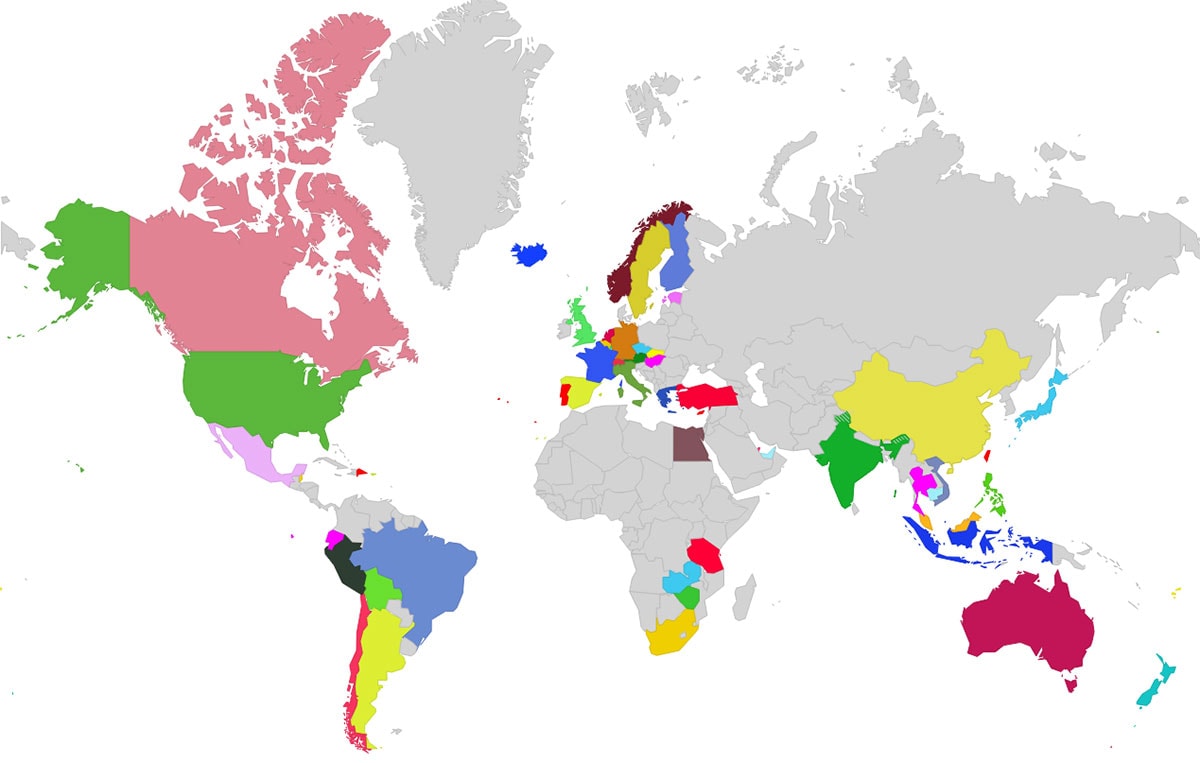 Why work with us?
Travel is our great passion and we love to get to know new places. We try to convey this passion in our travel reports by writing about our experiences in great detail and with many photos. We also try to give other travellers helpful tips on how to plan their holidays, because we have noticed for ourselves how difficult it is sometimes to get helpful and detailed travel information about certain holiday destinations. Whether it's the hotel, the best flights, transfers, food, excursions or special attractions, we try to describe a destination holistically and use our tips and maps to give readers an inspiration for travel planning and new destinations.
"We came across your website when planning our trip – really great!!! Thank you for all the information!"
"It's really fun to look at the pictures and read the reports, you're really hooking you on it. You really feel like going on holiday!"
"Your website is Amazing, I came across you via Tripadvisor."
"I've reached out to your website and I want to compliment you a huge compliment. It's so much fun to marvel at your beautiful pictures. I love taking pictures, so it's a pleasure to see your pictures."
Media Data & Audiences
Below are some numbers and graphs from Google Analytics about the readership of our blog and the reach of our social media accounts.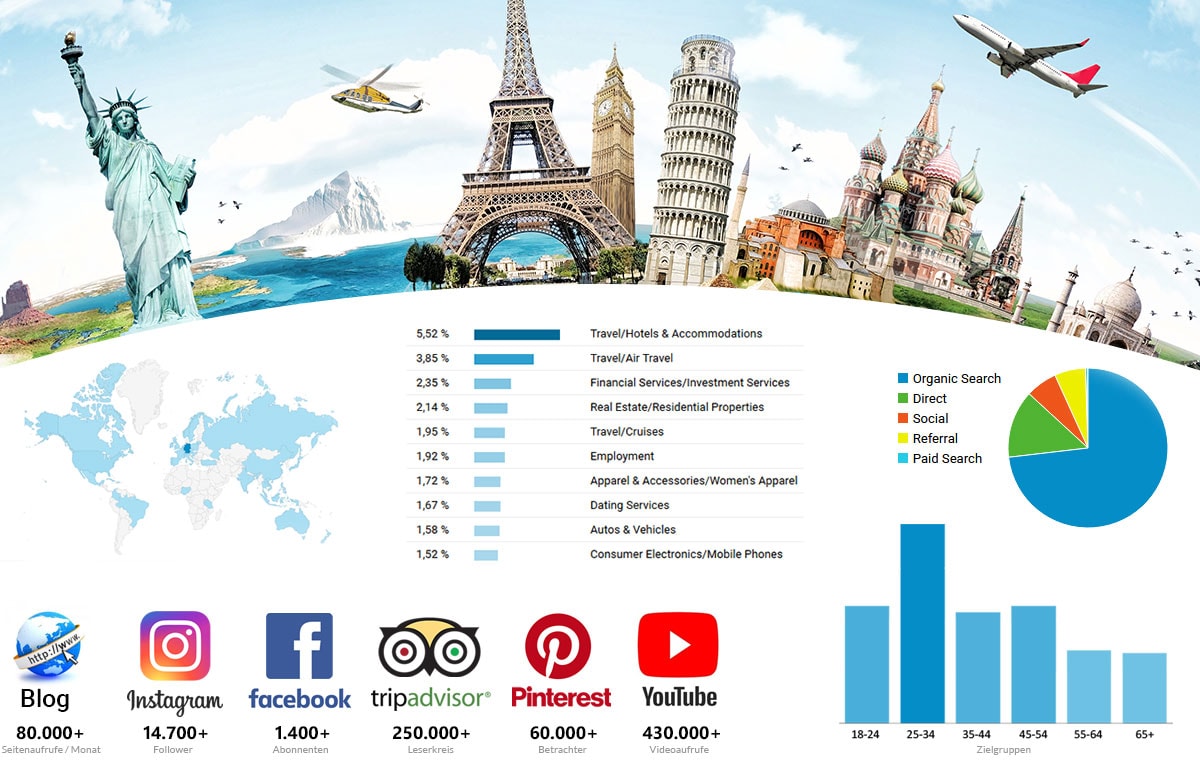 One Million Places in the media
We are always happy when our blog or travel reports are mentioned in other media and among our cooperation partners. Whether by reposting on Instagram, sharing our posts on Facebook or direct requests for our content. For example, with our video about the pink Amazon river dolphins of Brazil in the show "The 100 Wildest Stories from the Realm of Animals" on RTL. The 360° video of our world tour is published in the travel section of T-Online.de, one of the most wide-ranging news portals in Germany. And rather by chance we had seen that our travelogue for "Swimming with Turtles in Barbados" was shown in the Pro7 program "Galileo Special: Ab ins Warm – Holiday Challenge reloaded". The show was broadcast on 11.03.2018 and dealt with the topic: "How best to escape the German winter? The travel reporter Cornel Bunz found our travel report for the Caribbean island of Barbados on Google, which of course pleased us. A short video about this can be found here.

Cooperations with us
We are available for travel agencies, companies, hotels and destinations for individual trips, press trips and blogger trips. Our strength is to combine very detailed travel reports and professional photos and thus provide the reader with a comprehensive informative travel report with tips on his desired destination. In addition, as a content creator, we can create appropriate reports and photos for corporate websites and corporate blogs. Our media data with further information can be requested individually by e-mail from us.
Privacy Policy & Advertising
The privacy policy for our website can be found here. More information about advertising and affiliate links can be found here.
Contact us
Here you can contact us if you have any questions or feedback about our blog. We are also happy to answer inquiries for cooperations.