Today we had a longer route ahead of us: 420 kilometers from Hermanus to Cape Agulhas and the De Hoop Nature Reserve to the Gondwana Game Reserve in Mossel Bay.

The detailed travel report for our tour today will be delivered. But we have already uploaded the pictures. If there are any specific questions about the pictures or destination, please post a comment at the end of the post.
The route from Hermanus to Gondwana Game Reserve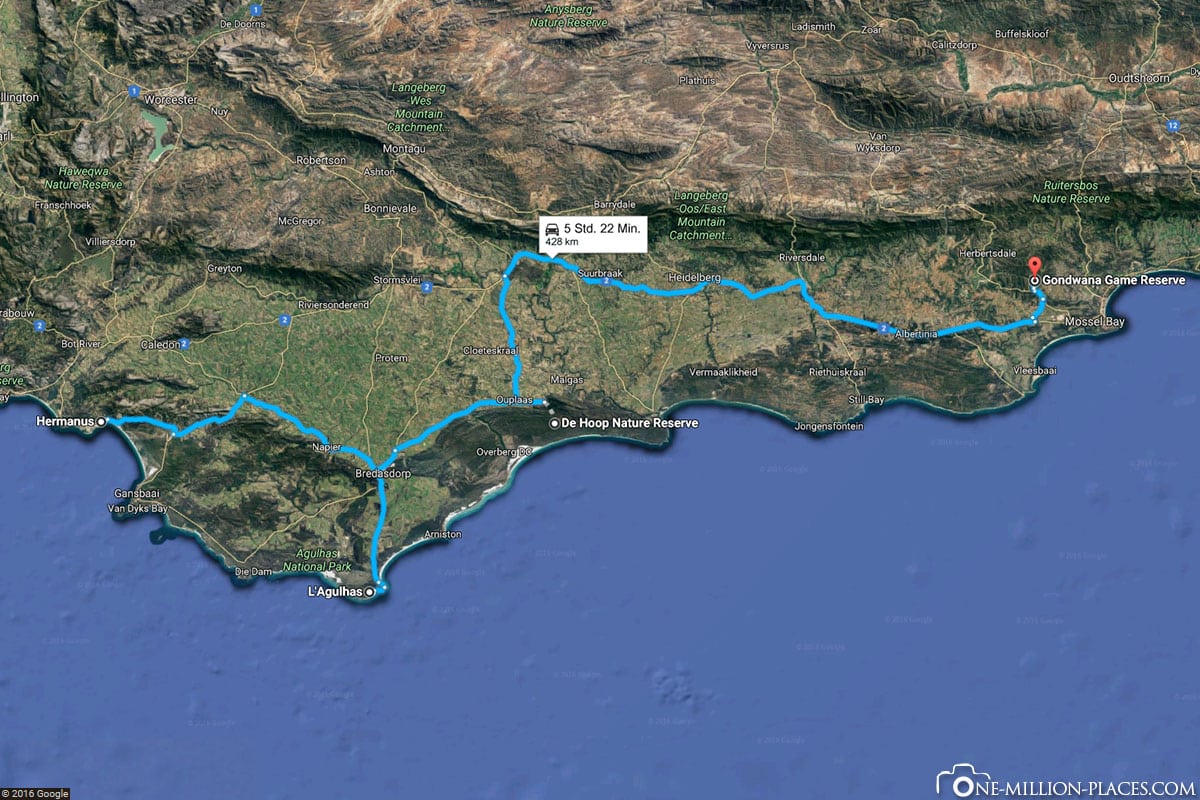 Cape Agulhas – the southernmost point of the African continent
The De Hoop Nature Reserve
All travelogues from South Africa & Zimbabwe
All travel reports from our trip through South Africa and the Victoria Falls in Zimbabwe.

Day 01
Travel planning for South Africa, Zambia & Zimbabwe (Africa)
(Südafrika)
Day 02
Cape Town – The Victoria & Alfred Waterfront (South Africa)
Day 03
Cape Town – The colourful district of Bo-Kaap (South Africa)
Day 04
Cape Town – Table Mountain, Signal Hill & the Noon Gun (South Africa)
Day 05
Cape Town – Hout Bay & Chapman's Peak Drive (South Africa)
Day 06
Cape of Good Hope – The Southern Tip of Africa (South Africa)
Day 07
Muizenberg – The colorful beach houses & World of Birds (South Africa)
Day 08
Simons Town – The Penguins at Boulders Beach (South Africa)
Day 08
Cape Town – Swimming with sea lions in Hout Bay (South Africa)
Day 09
The Imhoff Farm – Riding on the beach of Noordhoek (South Africa)
Day 09
Betty's Bay – The Penguin Colony at Stony Point (South Africa)
Day 10
Cape Agulhas & De Hoop Nature Reserve (South Africa)
Day 11
Garden Route – The Gondwana Game Reserve in Mossel Bay (South Africa)
Day 12
Gondwana Game Reserve – Safari & the Big Five (South Africa)
Day 13
Oudtshoorn – The Cango Wildlife Ranch (South Africa)
Day 14
Panorama Route – God's Window & Blyde River Canyon (South Africa)
Day 15
Kruger National Park – Safari & Lower Sabie Restcamp (South Africa)
Day 16
Kruger National Park – Safari & Olifants Restcamp (South Africa)
Day 17
Kruger National Park – Safari & Shingwedzi Restcamp (South Africa)
Day 18
Kruger National Park – Safari & Punda Maria Gate (South Africa)
Day 19
Pretoria – Nelson Mandela Statue & Union Buildings (South Africa)
Day 19
Johannesburg – Tourist Attractions & Things to Do (South Africa)
Day 20
Victoria Falls – Arrival in the City of Victoria Falls (Zimbabwe)
Day 20
Victoria Falls – The Waterfalls on the Zimbabwe Side (Zimbabwe)
Day 20
Victoria Falls – A boat trip on the Sambesi River (Zimbabwe)
Day 21
Victoria Falls – A helicopter tour over the waterfalls (Zimbabwe)
Day 21
Victoria Falls – The waterfalls on the Zambia side (Zambia)