After our AIDA Caribbean cruise in December, it was now: Finally holidays 🙂 For the next 15 days we chose the island paradise Palau and the big city taipei in Taiwan – a nice combination of island holiday, beach, diving and sightseeing. We have had Palau on our bucket list for a long time. Through a diving magazine, we became aware of the destination, which is located a little remotely in the Western Pacific and is considered one of the top diving areas in the world.

Flight connections to Palau
Getting to Palau, just over 12,000 kilometres away, from Germany is not so easy. There are possible connections via Korea, Taiwan, China, Japan, the Philippines or from the west coast of the USA. From our point of view, the best flight connection and the best offer from Frankfurt is provided by China Airlines, which offer direct flights Frankfurt – Taipei (daily) and Taipei – Palau (2 x weekly).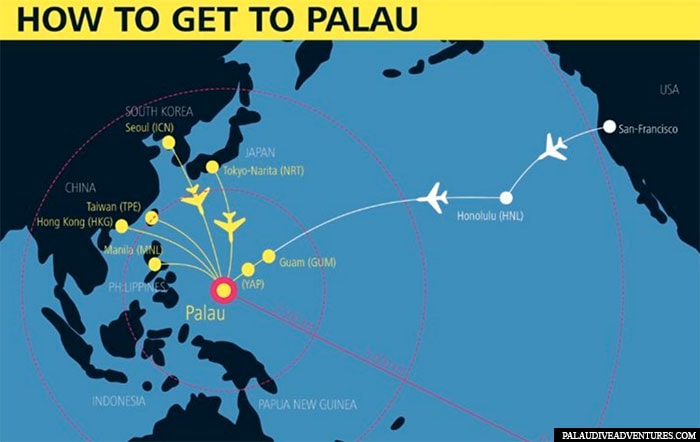 We have postponed many days and possible combinations in the booking system and finally decided on the following travel planning:
Our travel planning:
Friday, 21.04. – Departure Frankfurt (11.20 a.m.)
Saturday, 22.04. – Arrival Taipei (6:10 a.m.)
Saturday, 22.04. – Departure to Palau (1.15 pm)
Saturday, 22.04. – Arrival Palau (6.15 pm)
(12 days in Palau)
Wednesday, 03.05. – Departure Palau (19:05)
Wednesday, 03.05. – Arrival Taipei (21:45)
(3 days in Taipei)
Saturday, 06.05. – Departure Taipei (23.50)
Sunday, 07.05. – Arrival Frankfurt (6.50 a.m.)
The Premium Economy Class of China Airlines
With half an hour delay, a Boeing 777 from China Airlines started at Frankfurt Airport. China Airlines is an airline based at Taiwan Taoyuan Airport. She is a member of the SkyTeam aviation alliance. On the two long-haul flights between Frankfurt and Taipei, we took seats in Premium Economy Class to have a little more comfort during the two flights, which lasted just under 13 hours. And we were not disappointed.
The guests of the Premium Economy sit in a 2-4-2 arrangement, i.e. we had a 2-series for us alone. The seats are shell seats with a hard backrest that is not adjustable. This has the advantage that you don't have to stick the seat of the front man half on the face when he sits back. However, the seats can still be slightly angled by sliding the seat forward. At the same time, you can extend the footshelf, so that you really sit very comfortably and have enough legroom. Between the two seats is a very large arm rack, which contains a storage compartment, the remote control and a power connection.
China Airlines had just announced a promotion on Facebook at the time: All Premium Economy and Business Class guests (until May 31, 2017) have the opportunity to test the WiFi on board the B777 for three hours free of charge on the way to Taipei. Normally you pay about 17 US dollars for the three hours. The WiFi worked very well, went fast and the login worked without any problems. So as a tip: for certain promotions always look at the Facebook page of China Airlines 🙂
The TV in the front seat is quite large and offers a large entertainment program. German films are rare compared to the other languages, but at least there are about 30 new and old films. Shortly after departure, small water bottles, slippers and overnight kits (sleep mask, toothbrush, toothpaste, lip balm and earopax) were distributed. So nothing like pure in the slippers, backrest back, footrest up and relax 🙂
It didn't take long for the food to be served. The menu card was distributed in advance, so that you could take a look in. There were two main courses to choose from, as well as a wide selection of drinks. The lunch was very well put together and very tasty – just note the prince roll and the Häagen-Dazs ice cream! Later there was a second small meal and just before landing a sandwich. We spent time sleeping and watching movies before we landed in Taipei at around 6 a.m. local time. The crew was very nice and helpful at all times. On getting off we saw that three pilots and 16 stewardesses accompanied us.
The China Airlines Business Lounge at Taiwan Taoyuan Airport
Arriving in Taipei, we had about seven hours of transit. At first we had considered whether we would like to leave the airport during this time and explore Taipei. Taiwan Tourism offers transfer tourists twice a day the opportunity to take part in a free tour to get to know the exciting capital of Taiwan and the surrounding area. Unfortunately, the times for this tour did not quite fit for us, so we could not take advantage of the offer. Of course we could have done something on our own, but since we had already arrived at 6 o'clock in the morning and everything only opens around 10 o'clock (for example, an outlet centerlocated near the airport), we decided to spend the time at the airport.
China Airlines has allowed us to try out their business lounge at the airport. There is probably no better and more relaxed place to bridge the seven-hour transit time 🙂
The China Airlines Lounge is located in Terminal 1, on the upper floor immediately after the Security Check, which all transit passengers must pass through. The reception in the lounge was very warm. A member of staff offered to show us the lounge and associated amenities. But we wanted to get our own picture first and were positively surprised. Especially from the two sleeping cabinsthat we first seized, because we were very tired. Unsolicited blankets were brought to us directly and we were approached by name. Wow, how attentive!
After a good 2.5 hours of more or less comfortable sleeping (the flight announcements were unfortunately very loud and it was really cold) we took a refreshing shower and again there was nothing missing: towels, hair dryer, toothbrushes, shampoo, shower gel etc. – it was all there and super clean.
All that's missing is the food. Unfortunately, as a European palate, you are a little disappointed here, but you are still fed up. There are various hot dishes, a selection of soups, a small salad bar and sweet particles to finish. A fridge with soft drinks and a small selection of alcoholic beverages are available. The Business Lounge was ideal to bridge the 7 hour stopover well. And so we were able to relax quite relaxed around 1 p.m. on the next flight from Taipei to Palau. Nemo & Co. – we're coming! 🙂
In Business Class from Taipei to Palau
The route Taipei – Koror we had booked as a business class ticket – but not at all conscious. We had booked all four flights as a common ticket and the cheapest and best time offer was the combination of Premium Economy on the two long-haul routes and 1 x Business and 1 x Economy on the two short-haul routes. We wouldn't have needed business class for the four-hour flight time, but we don't say no 🙂 In the Boeing 737-800 there are eight seats in Business Class, the rest were Economy Class seats.
Shortly after the start we got a delicious meal, drank German Riesling and watched a movie. Time passed quite quickly and then we went into the descent to Palau. Unfortunately we were on the wrong side of the plane, so that we could "only" see the main island of Babeldaob and unfortunately not the numerous Rock Islands. So a little tip for all those who fly to Koror: put in the direction of flight on the right side 🙂
Then we were told: Welcome to Palau 🙂 You can read all about the entry regulations in Palau (visas, fees, etc.) in the next post.
All travelogues from Palau
The islands of Palau, together with Blue Corner and the German Channel, are among the most beautiful and interesting dive sites in the world. And the fantastic pictures of the UNESCO World Natural Heritage Rock Islands have certainly been seen by many on the Internet or in reports on TV. We spent
a total of 12 days on Palau
and got to know the island paradise both above and under water.

»
Palau – Travel Guide, Diving & Things to Do
»
Palau – Entry & Exit (Visa) at Koror Airport
»
Koror – The Palau Royal Resort on Malakal Island
»
Diving with the diving school Fish 'n Fins
»
The Rock Islands in Palau & Infos about Jellyfish Lake
»
The Blue Corner – Diving with Sharks & Napoleon Lip Fish
»
The German Channel – Diving at the Manta Hotspot
»
Jake Seaplane – Diving at the Plane Wreck
»
Palau – Diving in the island paradise of Micronesia
»
Peleliu – Diving on Palau Island
»
Peleliu – Historical tour of the old battlefields in World War II
»
Palau – Our Self-Guided Day Tour of Babeldaob Island
»
Palau – Scenic Flight over the Rock Islands & Seventy Islands