For us, a holiday in the USA is simply an extensive shopping tour in addition to exploring the cities, sights, national parks or landscapes. We love to shop in the USA!

Whether in the big malls, in small shops or the great factory outlet centers. You simply see other designs and other brands and that – in relation to Europe – at often unbeatable prices. With a good dollar rate and with additional use of discount coupons, there are really good bargains. What the shopping paradise USA offers and what you should consider when saving, we would like to show you on the help of our experience in this article.
Things to know to know about shopping in the USA
Going shopping in the US is a bit different from ours in Europe. It starts with the shop opening hours, the different handling of taxes, goes through extreme couponing and stops at countless outlet centers.
Shop opening hours
Opening hours in the United States are not regulated by law. Therefore, customers and their purchasing behaviour often determine the opening hours of most stores. But also the location of the shop, especially in tourist areas, is not uninteresting for the opening hours. As a rule, the shops in very touristy areas, such as in the middle of New York, are open much longer than a shop in the countryside.
Large retail chains, such as Walmart, are actually often open 24 hours a day. In the US, this is usually called "24/7", i.e. open 24 hours a day, 7 days a week. Since Sunday is a normal working day in the USA, you can also use it for shopping. However, most shops close earlier on Sundays than on the other days. On public holidays, as on Sundays, shops are usually open in a shortened way.
The largest department stores
With us in Germany, the big department stores are mostly Karstadt or Galeria Kaufhof, where you can find pretty much everything from textiles to food to technical products under one roof.
In America, these stores are calledDepartment Stores,mainly Sears, Kohl's, J.C. Penney, Nordstrom, Barneys New York, Bloomingdale's, Neiman-Marcus, and Macy's. The range includes clothing, shoes, furniture, jewellery, cosmetics, electrical appliances and household items. Food is rarely found here, unless it is pre-packaged products that you don't have to cool, such as sweets.
The largest retailers
Retail companies such as Walmart, SuperTarget or Kmart are called so-called hypermarkets or self-service department stores, where food, clothing and technology are available.
Supermarkets & Discounters in the USA
Did you know that aldi or Lidl are also available in the USA? 🙂
In addition to the "local" supermarket chains such as Whole Foods Market, Kroger, Ralphs, Publix, Safeway, Foodland, Food 4 Less or Save-A-Lot, the German place deer have meanwhile also made a name for themselves in the USA. ALDI has even been around here since 1976 and has been very successful on the market with its low-price range, so that the branch network is to be expanded to 2,500.
The largest drugstores
In the USA there are also retail companies, which, like dm, Rossman or Müller, are a combination of drugstore, pharmacy and food. These include chains such as CVS Pharmacy, Walgreens, Rite Aid or Duane Reade. These are also often open 24 hours a day.
Amazon Go – The supermarket without a checkout
Online retailer Amazon has been offering a completely new way of shopping for groceries since 2018. Amazon Go is the first supermarket in the U.S. without checkouts. This means shopping without a queue, without repacking and packing the goods at the cash registers and also with payment without cash.
Through countless sensors in the store, software automatically detects which products the customer has taken with it. When you leave the supermarket, the amount is automatically debited from the buyer's Amazon account. The choice is not yet very large: fresh food, salads, ready meals, drinks, sandwiches and smaller meals are on offer. So ideal for those who want to buy something to eat quickly and easily during the lunch break.
Currently there are 9 "Amazon Go" stores in the U.S. as of January 2019: 4 stores in Seattle (2131 7th Ave, 920 5th Ave, 300 Boren Ave N, 300 Pine St), 3 stores in Chicago (113 S Franklin St, 144 S Clark St, 500 W Madison St) and currently 2 stores in San Francisco (300 California St .98 Post St). By 2021, Amazon reportedly wants to open up to 3,000 of its "Amazon Go" stores without a cashier.
If you want to shop in Amazon Go stores, you must have an account with Amazon and download the Amazon Go app. Only with the app on the smartphone do the doors of the supermarket open 🙂
Offer: 30 days free Amazon Prime trial membership
The 10 largest shopping malls in the U.S.
While the large outlet centers are mainly cheap clothes and shoes to buy, in the large malls there is a greater variety of goods: clothes, shoes, toys, electronics and much more. And not only the big chains can be found here, but above all many smaller shops. The advantages of visiting a mall are obvious: you have a wide range of products under one roof, is protected from wind and weather and has short distances.
One of the largest mall operators is the Simon Group, which operates "Premium Outlets" in addition to its "Simon Malls" and "The Mills". Here we have listed the 10 largest shopping malls in the USA (based on the sales area):
01. King of Prussia, Philadelphia (Pennsylvania): 270,000 m2 – 450 shops – Official website
02. Aventura Mall, Miami (Florida): 250,000 m2 – over 300 shops – Official website
03. Del Amo Fashion Center, Los Angeles (California): 240,000 m2 – over 200 shops – Official website
04. South Coast Plaza, Los Angeles (California): 240,000 m2 – over 280 shops – Official website
05. Mall of America, Bloomington (Minnesota): 230,000 m2 – over 500 shops – Official website
06. Destiny USA, Syracuse (New York): 228,000 m2 – over 250 shops – Official website
07. Roosevelt Field, Garden City (New York): 220,000 m2 – 300 shops – Official website
08. The Galleria, Houston (Texas): 220,000 m2 – 375 shops – Official website
09. Ala Moana Center, Honolulu (Hawaii): 220,000 m2 – over 330 shops – Official website
10. Tysons Corner Center, McLean (Virginia): 220,000 m2 – over 300 shops – Official website
More than 100 Outlet Centers in the U.S.
Outlet centers in the U.S. are very large shopping malls where brand manufacturers offer their goods at very discounted prices. It is not uncommon to save up to 80 here.
Across the US, for example, you can find the well-known premium outlets of the Simon Group, of which there are more than 65 in the USA. Other well-known outlet chains are the Tanger Outlets with over 40 outlet centers and the outlets of the Craig Realty Group.
In almost all outlet centers you will find all well-known designer brands like: 7 For All Mankind, adidas, Aerie, Aeropostale, Aldo, American Eagle, Ann Taylor, Armani Exchange, Asics, Banana Republic, BCBG Factory Outlet, Boss, Brooks Brothers, Burberry, Burton, Calvin Klein, Dior, Citizen, Clarks, Coach, Converse, crocs, Desigual, Diane von Furstenberg, Diesel, Disney, DYNY, ECCO, Elizabeth Arden, Express, Forever 21, Fossil, G-Star, Guess, J.Crew, Jimmy Choo, Jockey, Lacoste, Levis, Lids, Longchamp, Marc Jacobs, Michael Kors, Nautica, Nike, Oakley, OshKosh BGosh, PacSun, Polo Ralph Lauren, Puma, Reebok, Sams Ononite, Scotch & Soda, Sketchers, Sunglass Hut, Superdry, Swarovski, Swatch, The North Face, Timberland, Tommy Hilfiger, True Religion, U.S. Polo Assn, UGG Australia, Under Armour, VANS and Wilson Leather.
Shopping in and around New York
We love New York! The size of the city, the many sights, the diversity… everything in this metropolis is gigantic. And what's the best way to do bad weather in New York? Go shopping extensively 🙂
In general, it can be said that New York is in itself a true shopping paradise. From small shops to huge department stores, from the luxury stores on Fifth Avenue to the huge department stores of Macys, Bloomingdale's, Century 21 or Saks Fifth Avenue – there's something to shop for everywhere, great storefronts and a lot of deals.
Also interesting:
Shopping in New York: Cheap Shopping, Outlet Shopping & Savings Tips
---
Save with coupons, discount promotions & loyalty cards

But before you embark on a shopping adventure, we would like to give you a few tips on how to save even more when shopping.
Discount Coupons & VIP Shopper
The US is probably the inventor country of discount coupons – couponing is the magic word here. Coupons and voucher booklets can actually be found everywhere – on flyers, at the information booths of the hotels, in daily newspapers, in magazines, in advertising brochures or directly in the supermarkets at the entrance. And of course you can find many vouchers online.
When we go to an outlet mall, we always inform ourselves in advance on the website, which shops offer special offers or extra discounts. For all Simon Group malls (e.g. Woodbury Common Premium Outlet, Orlando International Premium Outlets, King of Prussia Mall and many more) there is the VIP Shopper Club, for which you can register for free. Here you get special offers of the individual shops as a coupon to print out. You can also print out a "Savings Passport Voucher" there. With this voucher you then go to the information center of the mall and get a free voucher booklet, which usually costs between 5 and 10 USD. Here you will find offers such as "Buy for 125 USD, save 25 USD" or "From 100 USD 20 discount on everything". The shops in the outlets are already set for this and some even have their own discount promotions. In an Adidas outlet, for example, there was a 40 discount on everything and a separate promotion in the store,where you could get up to 30 discounts (of course in addition to the 40). The sellers in the shop had pressed small scratch cards into each visitor's hands, where – depending on luck – one could scrub 10, 20 or 30 free. So it is not uncommon to leave a shop with 4 pairs of shoes, 2 sweaters and 3 T-shirts and not pay 150 USD – and that for branded goods.
As a tourist in New York, you can also get the free discount card from Macy's (Macy's Visitor Savings Pass) – either at the information in Macy's itself or simply and conveniently directly on the Macy's website for instant printing. With this card there is 10 discount on many items at Macy's (e.g. clothes).
SALE Weeks
Next, shopping is especially worthwhile within one of the many SALE weeks. Whether Black Friday, Holiday Sale, Christmas Sale, Back to School Sale, Independence Day (4th of July), Presidents Day, Veterans Day, Secretarys Day, Fathers Day, Mothers Day, New Years Day, Memorial Day or Thanksgiving – there is always something special to celebrate in the USA 🙂 Here, too, the shops attract with sometimes extra reduced prices or determine special offers.
Customer
Another savings tip are customer cards. Many shops (especially the big supermarkets) have special prices for loyal customers or offers such as "buy-one-get-one-free". You may have noticed this when you are standing in front of a shelf and the big mostly yellow prizes are awarded there. Some of these offers are valid for all, for others you need your own customer card, which you can usually get free of charge and uncomplicated at the checkout or at the information stand of the each makte. We usually only had to enter our e-mail address and telephone number in a form and were then able to benefit directly from the discounted prices. For example, we did it at Safeway, Foodland or CVS Pharmacy.
APPs / Newsletter Registration
How can I still save on shopping? Sometimes it is helpful, for example, to look at special online offers in the APPs or for a newsletter registration. At Old Navy, for example, we immediately received 20 discounts on our entire purchase for the newsletter registration, even though we only registered for the newsletter online in the store. The newsletters can then be unsubscribed relatively complicated and quickly.
Although most stores offer free WiFi, which allows you to quickly check online if there are any coupons, it doesn't hurt to get a prepaid card for the US, e.g. from Amazon, so that you can go online at any time and enter the nearest shopping center on GoogleMaps 😉
Basically, keep your eyes open when you enter a store. Often there are action signs distributed directly at the entrance or in the shop. For example, at Polo Ralph Lauren or Tommy Hilfiger, where you have to send a text message to a specific number and then receive a coupon sent back, which you can redeem immediately.
If you pay attention to all these points, you have a good chance of saving even more on your next shopping tour 🙂
Taxes (Tax)

The handling of taxes in the United States is regulated in a completely different way than we are used to.
Net
In German shops and supermarkets, goods are always quoted at gross prices. This means that the final price already includes the respective vat. In the United States, net prices for food, calottes, etc. are always hit. So you always have to make sure that the current tax rate (sales tax) is added to the price at the checkout.
This is (especially when you are in the USA for the first time) a little bit of getting used to, because when you buy several items you don't see the final amount, but still have to add the applicable tax rate in your head.
The tax rates of the different states
Taxes (sale tax) in the United States are divided into the state tax rate and the local tax rate. Since there is no uniform sales tax in the United States, each state sets its own tax rate. The amount of the tax rate varies from city to city and state to state. Sometimes it's only 2, times 7.25. Since January 2017, the five states of Alaska, Delaware, Montana, New Hampshire, and Oregon have not collected a state wide-rate sales tax, while California has the highest state sales tax at a base rate of 7.25. The highest total in taxes is in the state of Alabama with 13.5.
The current amount of the sales tax of the different states can be seen here: Wikipedia
Tax-Free shopping
In addition, there are countries that do not levy taxes on certain goods. This includes, for example, New Jersey or New York. Here, for example, "unprepared food" or "medicine" can be bought tax-free. A very good overview of which states levy taxes on which things and which do not, can be found in this blog post.
There is still a special rule in New York: there is no sales tax on a garment or shoes that cost less than 110 US dollars per item. A garment or pair of shoes that costs USD 110 or more is subject to the full tax rate. The sales tax is calculated per item, so even if you buy two or more items that together account for 110 US dollars or more , you only have to tax the items, which cost 110 US dollars or more individually.
In some states there areso-called " tax-free weekends" where you don't have to pay tax on purchases. It is best to inform yourself in advance whether such a weekend is in the planned travel period.
Refund of taxes on departure
Have you ever seen the long beatings at the "Tax Refund" counters of Global Blue, Tax Free Germany or Premier Tax Free) at the airports in Germany? Non-EU citizens can get VAT refunded on purchases made within the EU.
In the USA, there is also a so-called "Tax Free Shopping" in two states:
In Louisiana, foreign tourists get back the paid sales taxes at the Louisiana Tax Free Shopping (LTFS) Refund Center at New Orleans Airport. The official page of the LTFS describes the exact procedure: (1) Make sure that the business is a member of the LTFS. (2) Show your passport when purchasing and have a Tax Refund Voucher given. (3) Remove the receipt and voucher and present them upon departure at one of the LFTS Refund Centers (New Orleans International Airport, Downtown Refund Center in the Riverwalk Marketplace, at Capital One National Bank in Lafayette or Shreveport). to get a refund of the VAT that you paid in the shop.
In Texas there is also recently a TaxFree Shopping Program. The prerequisite for this is that you have spent at least 12 US Dollars Sales Tax. If you have spent less, no tax can be refunded. Here, too, it is necessary that the shop participates in the TaxFree Shopping Program and has registered in advance. The tax can then be recovered in one of the Refund Centers.
Provisions of German Customs
Under certain conditions and within defined quantity and value limits, goods can be imported into Germany duty-free if you enter Germany from a non-EU Member State. Before a trip you should read the current guidelines on the website of the German customs.
When entering by car
If you return to the EU by car, bicycle or on foot from a non-EU country, you can import goods up to a total value of 300 euros tax-free. For travellers under the age of 15, the value of the goods may only be a total of 175 euros.
For air and sea travellers
If you return to the EU by plane or ship from a non-EU country, you can import goods up to a total value of 430 euros tax-free. For travellers under the age of 15, the value of the goods may only be a total of 175 euros.
For online orders
A postal shipment from a non-EU country must in principle be handled by customs. Whether you have to pay customs duties or taxes depends on the type and value of the goods. For example, gift shipments up to a value of less than 45 euros are tax-free.
For Internet orders, the value of the goods depends:
(1) Value of goods up to EUR 22: import possible without the imposition of import duties
(2) Value of goods between 22 euros and 150 euros: Consignments are duty-free, but import sales tax of 19 percent and 7 percent and excise duty (for consignments of goods with goods subject to excise duty) are levied.
(3) Value of goods greater than 150 euros: settlement according to customs tariff
It is best to read the regulations on the official website of the German Customs – then nothing can go wrong.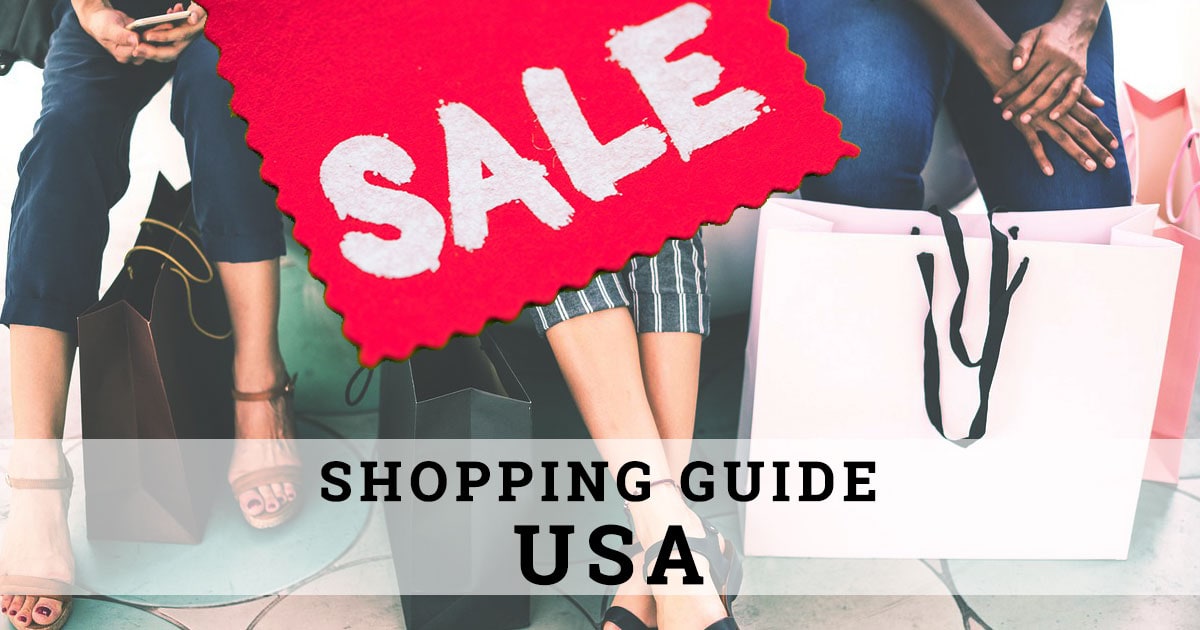 Now all we have to say is: Let's go shopping 🙂
We hope our tips will help you on your next vacation in the USA. If you have any other interesting savings tips about shopping in the U.S., knows other good malls or outlet centers, or have other comments or add-ons, just write it to us in the comments. We would be very happy 🙂