After we had been on the beach of Miami Beach in the morning and had explored the Art Deco district with the Ocean Drive, there was something great on our program: The Jungle Island of Miami. Sounds adventurous 🙂

The Jungle Island in Miami
Jungle Island is a zoological park located in the heart of Miami, between Downtown Miami and South Beach on Watson Island (see Google Maps).
The zoo was opened in 1936 by Francis and Louise Scherr as "Parrot Jungle". The idea for the park came to Scherr when he visited the attraction of an acquaintance – Monkey Jungle. He was fascinated by the idea of building an attraction where birds could "fly freely". So he bought an 81,000 m2 of land for just 25 DOLLARS and designed the park as a nature trail. At that time, "Parrot Jungle" was still just outside Miami, and it was not until 2003 that the park was moved to its current location east of downtown Miami and renamed "Parrot Parrot Island". In 2007, it was renamed "Jungle Island". After being badly damaged by Hurricane Irma in 2017, the park reopened after a series of major renovations. Fortunately, no animal was harmed in the storm.
The Jungle Island should not be confused with the zoo of Miami, which is of course much larger and lies a little further south in the city.
Opening hours, admission & parking
The park is open every day from 10 a.m. to 5 p.m. We were there just after opening to make the most of the day.
The normal entrance fee is 52.96 USD per person. This includes only the walk through the zoo, the petting zoo and the two shows. Proper interactions with animals can also be booked. For example, a private interaction with lemurs or sloths costs USD 95.28 per person. A map of the zoo in .pdf format can be downloaded here.
Parking is possible on the grounds of the park without any problems. Right next to the entrance there is a large car park. If you want to park here all day, you have to pay 10 USD.
Our Up Close VIP Tour
At 10.30 a.m. we had an appointment with the VIP Tour Management. Ryan Jacobs, our current Jungle Island Guide & VIP Tour Manager, has been waiting for us here. Because today we had something very special in Jungle Island: an Up Close VIP Tourthat was supposed to bring us very close to different animals. We were very excited and very excited, what would we expect here.
Ryan first asked us which animals we would like to see. At the forefront for us were penguins, flamingos and sloths. But we didn't know at first that we could experience some other animals up close and was a huge surprise 🙂
Our guide Ryan first told us a bit about the history of the park and also its personal story. Because with some animals of Jungle Island he even grew up himself. His mother, Linda Jacobs, is known as the "Orangutan Mum of Jungle Island" – what the well-known primate researcher Jane Goodall is for chimpanzees is Linda Jacobs for orangutans. She lives near Jungle Island and used to raise the little monkeys and some other animals at home by hand. For Ryan Jacobs, some of the animals are his siblings and he has a very special connection to them. And the love for the animals can also be seen when he has told us about them.
The VIP tour costs USD 351.92 per person and takes about two hours. Very expensive, but also a unique experience that you won't forget so quickly.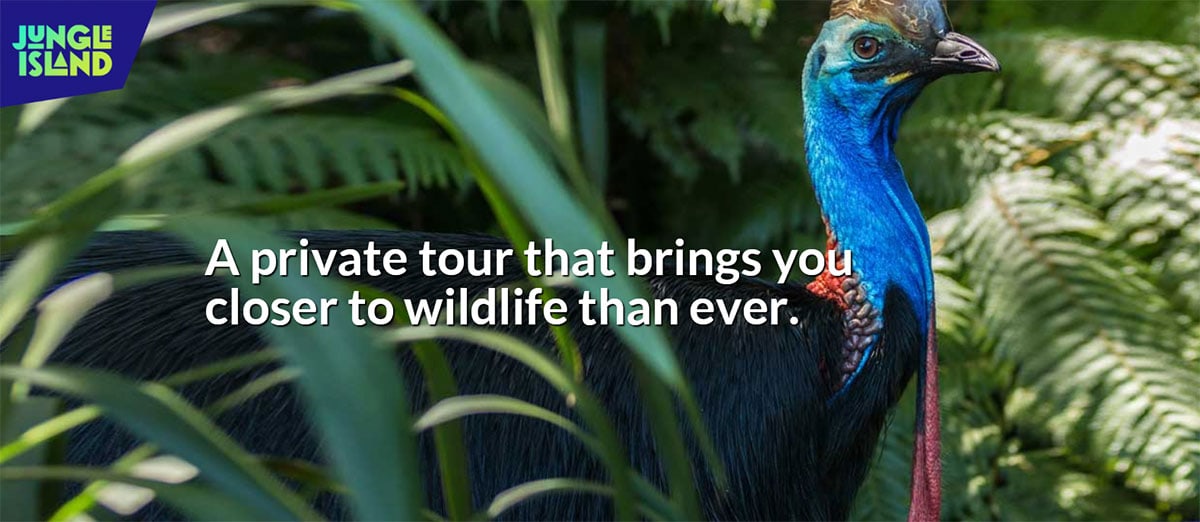 Wrap bear & penguins
Our first stop was a small theatre where no show had taken place. Ryan asked us to wait a short time here. A few minutes later he came back – followed by two South African penguinswho followed him at every turn. The two guys were sugar-sweet and very interested. We could even pet them.
A few minutes later, a colleague of Ryan came with a wrapping bear on his arm. We were totally flashed because we have never seen a wrap-in-hand bear or honey bear live before. The womb bear is a species of small bear living in Central and South America, which can cleverly use its long, gripping tail for climbing. We fell in love with his big, brown cuddly eyes 🙂
Flamingos
Our next stop was with the flamingos,which we were even allowed to feed. The flamingos were very tame and used to humans, so it was a really great experience. They even started picking something on the skin that felt like a small massage.
We had already visited the Ardastra Gardens, Zoo & Conservation Centre in Nassau last week, famous for its flamingos. Here we could also admire the animals very close, but they were a bit too shy to caress. All the more beautiful that we were able to make up for this here in Jungle Island.
Sloths
Sloths Seeing it live and up close has always been our great wish – that's why Costa Rica is high on our bucket list. We would not have thought beforehand that this wish would be fulfilled in Jungle Island. Ryan brought us to Flash and his father, who are comfortably "hanging out" in your home in the truest sense of the word. But as we approached them, Flash immediately showed interest and – in typical sloth mania – moved to us quite laaaaangsam. The little one was super curious – especially with our camera – and went on to feel the cloth. He has a totally fluffy coat and was so incredibly sweet ????
Aldabra giant tortoises
We were already able to experience and pet giant tortoises during our Mauritius holiday at Casela Tierpark. It was a very special experience. Here in Jungle Island there was also the increase: We were allowed to feed two Aldabra turtles – one 150 years old and the other 106 years old – with cucumbers and carrots. And you could really feel the power they had when they were biting. What do you think they've experienced in their lives?
Monkey baby
When Ryan told us that he would also like to take us behind the scenes of the zoo, we were very excited about what we would see. We first passed some offices until we arrived at an office with a baby cot. When Ryan got a little baby monkey out there and we could feed it with the milk bottle, it happened to us. When can you experience something like this? Madness! ????
Kangaroo baby
A few meters further – also in the office wing of the zoo – suddenly a 5-month-old kangaroo baby in a carrying bag hung on a door handle. We couldn't believe our eyes. A minute later we had the bag and kangaroo baby hanging around our necks. Wow, what a moment of happiness ❤
The two little ones are raised by the staff here because they have either been expelled or the mother has died. The keepers and vets then take the animals home at night, so that they are always sure that they always get something to eat and are under supervision.
Are there still two jobs as a keeper here by chance? 😉
Lemurs
The last stop of our VIP tour was the enclosure of the lemurs. We were allowed to sit on a bench and wait for Ryan to open the enclosure. And when this happened, we couldn't look so fast, so quickly the lemurs sat next to us, on us or the fruit impatiently out of our hands. They were insanely curious, licking our hands, inspecting our camera or playing with our hair. Definitely better than cinema 🙂
Parrots
Already at the entrance of Jungle Island you are greeted by many colorful parrots. But also throughout the park they are distributed and chill on their poles – sometimes alone, sometimes as couples. A real eye-catcher!
More Animals & Shows at Jungle Island
After about 2 hours as part of our VIP tour with Ryan in Jungle Island, we wanted to explore the park on our own. And so it went, for example, past the twin orangutans Peanut & Pumpkin, alligators, the petting zoo, various birds and warthogs. Finally, we watched the show "Winged Wonders", in which birds from all over the world were introduced, such as an Andean condor or a casuar. For families, the park offers besides the many animals other attractions, such as playgrounds, a children's bungee jumping or a climbing wall.
Many of the zoo's enclosures are certainly out of date, especially those of monkeys. But Ryan told us that many enclosures were destroyed in the last hurricane and they are still building new and more modern enclosures. For this reason, there are no lions left here. They were taken to another enclosure on the east coast of the United States before the storm. And since the animals have much more space there, they were not brought back. We think that's a good attitude 🙂
Our video of the VIP Tour
Here is a short video of our animal encounters at Jungle Island Miami:
All travelogues from Miami to Key West
After our one week stay in the Bahamas we spent a few days in Florida. This combination is ideal, because you can combine the two destinations very well. We spent 2 days in Miami and then drove with a rental car over Highway 1 (Overseas Highway) to Key West. Here you can find our travel reports:
---

---
Tag 1:
Miami:
Street Art & colorful Murals in the Wynwood Art District (USA)
Tag 1:
Miami:
Villa Vizcaya Museum & Gardens in Coconut Grove (USA)
Tag 2:
Miami:
Miami Beach, Ocean Drive & the Art Deco District (USA)
Tag 2:
Miami:
Jungle Island – An Up Close VIP Tour at the Miami Zoo (USA)
Tag 3:
Homestead:
Everglades Alligator Farm – An Airboat Tour in South Florida (USA)
Tag 3:
Florida Keys:
Travel Guide & Attractions on the way to Key West (USA)
Tag 4:
Marathon:
The Dolphin Research Center on Grassy Key (USA)
Tag 4:
Key West:
Tourist Attractions, Things to do & photo spots (USA)